(theme songs: Morissey - Almamatters)
Hehehe...
Pasti pada heran, gw kok ngilang lama amat?
Iya, so many things happened.
Dari gw les nyetir (dan dapet instruktur yang
CUNIHIN
suka towal-towel anjink), dapet SIM padahal gw blon jago2 amat, parkir paralel aja masih ketakutan!
Trus hari yang paling ditunggu-tunggu sepanjang sejarah SMA,
PROMNIGHT
.
Ow my gawd, kemaren tanggal
07 Juli 2006
tuh hari yg paling gw tunggu2 banget.
Biarin deh banyak orang2 (yang sekolah laen)yang menentang prom/perpisahan soalnya hedonisme, akal2annya guru buat dapet duwit...SIRIK AJA LOE.
Sekolah loe aja yang gak kompak :P
Dandannya gimana Djeng?
BOHAHAHAHA...tau gak, gw pas lagi sibuk UAN, bahkan UAS, nyokap udah ngejaitin baju gue, padahal gw pas itu blon tentu lulus SMA. Enaknya, pas temen2 gw H-7 baru nyari baju, gw udah tinggal dateng ke promnya :) Makasih banget ya Ibu.....aku sayang kamu.
Yang paling lucu, urusan rambut.
PERTAMA KALINYA SEUMUR IDUP, GW KE SALON DAN DUDUK NGEJOGROK BAGAI ORANG TOLOL SELAMA 3 JAM BUAT NGERITING RAMBUT, DAN HASILNYA JADI KAYAK VOKALIS NIDJI
....Bohahahah!!!
Banyak yg bilang gw jadi kayak
Rachel Maryam, iya..dari NERAKA.
Gue jadi gak usah nyisir, dan kriting2 kecil ini bertahan selama krg lebih 3 bulan..jadi gw pas ospek masih dengan rambut domba bgini...HAHAHA :D
Abo, kamu jadinya punya temen dong. Kualat gw ngejek kamu :)
But yesterday was GREAT.
Acaranya juga baru kelar jam 2 pagi, tapi that was great.
Don't you just love it when everybody wears gorgeous clothes and being with you for the last time?
Selamat tinggal SMAN 8, hiks hiks hiks..... T_T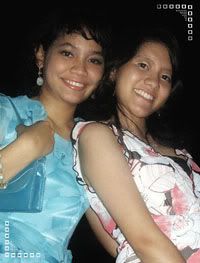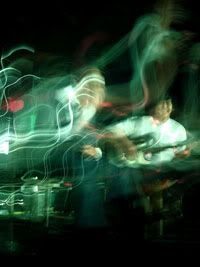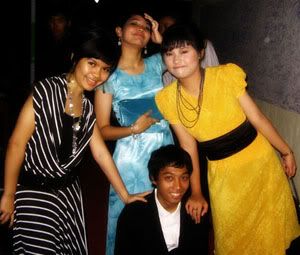 SEE YOU MY FRIENDS....!!!!