"L'Alphalpha Bedtime Story"

acrylic on paper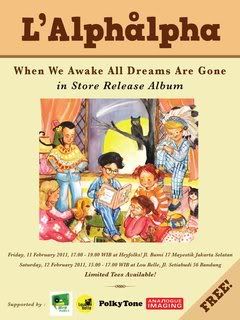 dear fellas,
please come to the launching Of L'Alphalpha debut album.
Debut album
When We Awake All Dreams Are Gone
by L'Alphalpha will be released on Friday 11th of February 2011. Their release party in Jakarta (will be held on February 11 at HeyFolks! Shop*) and Bandung (will be held on February 12 at Loubelle Shop*).
Make sure you will be there, they're so great!
and yes,
I am so excited to present you my illustration on the cover :*